the Swift Darning Loom from Worth Mending ✨
Looking to purchase a Swift Darner? Click this link for the listing.
Already have one? Please show us what you're making via #SwiftDarner!
What's a Swift Darning Loom?
The Swift Darning Loom is a mending tool! It helps you to quickly repair fabric by weaving a patch over a damaged area. The hooks hold your yarn in place and help you maintain a consistent tension for a tidy, flat patch. It's our upcycled take on classic vintage designs like the Speedweve (UK) or the Darn Easy (Canada). Like its vintage predecessors, the Swift Darning Loom is an heirloom in the making -- this time, with a modern and earth-conscious twist.
How do you use it?
Wrap your yarn around a hook and stitch it down into your fabric at the bottom to build your warp (vertical threads). The 14 hooks on the loom body flip back and forth, lifting and lowering alternate threads. As you darn, you slip your needle through all of the loops, stitch down at the end, flip the hooks and repeat the process all the way to the top. The width of the hooks moves your threads up and down subtly as you flip the hooks side to side, so you can very easily create an over-and-under woven pattern. It's a lot faster than weaving over and under manually, and you can achieve a tidy, even patch even as a beginner.
For full video tutorials, visit and please subscribe to Worth Mending on YouTube.
What makes the Swift different from other mini looms?
We designed this loom with our core values in mind. We use reclaimed solid hardwood paired with high-quality birch plywood for the base, reclaimed stainless steel bicycle spokes for the characteristic hooks, and stainless steel hardware to hold everything together. The wood is sanded to a fine finish and left bare, allowing it the potential to develop a beautiful patina with age and use.
Each of the work surfaces is unique in character, and in many cases the original finish is left intact as a hat-tip to the previous life that the wood has already enjoyed, often as a table, desk, or bedframe!
Who makes these darning looms?
Everything in our Swift Darning Loom line as well as all other Worth Mending products and accessories is handmade by our small team here in Kitchener.
We work out of the Kwartzlab Maker Space in Kitchener Ontario, Canada. We source locally and secondhand wherever we can (more than 75% of all of our materials are reclaimed from unusable consumer goods!). By purchasing from us, you're directly supporting our livelihood as creative artisans and small business owners, as well as our volunteer-run makerspace! We're so grateful you're here.

My personal Swift Darner styled with an old version of the Weft Pick and a patch in one of my favourite colour combinations, pink and green!
The Swift Darning Loom comes with one 14-hook darning loom & my "standard size" work surface (3 x 4.5"). The rectangular shape of the work surface means that you can create a much bigger patch per 14 hooks, compared to the "original" circular disc design. (They're also more efficient to make -- less waste in production, more function in the end product! A total win!)
+ 2x 3.5" sewing needles
+ the most thorough mini-loom instruction booklet that exists! (print+digital)
+ access to lots of how-to videos on the Worth Mending YouTube channel!
 The unique rectangular shape of our loom has allowed us to develop an extra-long work surface that you can use to easily create a woven patch up to 9" long! Or use the extra space to weave freehand and create little patches, tiny tapestries, bracelets, bookmarks, ribbons -- your creativity is the limit ;) and we look forward to seeing what you come up with. Tag us @worthmending and #SwiftDarner!

Everything that comes in the Swift Bundle including the XL Work Surface, weft pick, needles, pick, pouch and loom.
Why mend?
I will admit that darning a sock takes a heck of a lot longer than buying a new sock, but a heck of a lot LESS time than knitting a new sock, which was more commonly the standard for comparison in times past. These days, I love mending socks and extending their functional life for the reduced environmental and social impact as much as for the money saved from not going out and buying new socks. But mostly I love it for the art and the intention behind the act of mending.

An older iteration of the Swift Darner alongside some socks it helped me to mend.
Examples - Darning with the Swift Loom
But let's not stop there -- darning is for far more than just fixing socks! Essentially, when you darn, you are creating a new woven fabric to bridge a hole, repairing the integrity of the fabric you've worn out whether that's a sock, pants, a sweater, a tea towel, a blanket or really any textile. I've also used darning decoratively! The Swift Darner can make LITERAL PATCH POCKETS like I did here, on this cute little cardigan.
Here's what it looked like on:
Loom darning is most frequently used to create decorative and visible mends, but it is also possible, and quite striking in its own way, to create tone-on-tone mends like I've done with this sweater I mended for a client:
My latest experiments have led me to explore tiny tapestries using my loom. Did you know the Swift Darner converts easily into a mini weaving loom too?
For more examples and inspiration, find all my social links here - I regularly post photos, videos, and other updates via Instagram/Facebook, TikTok, and YouTube <3 happy mending!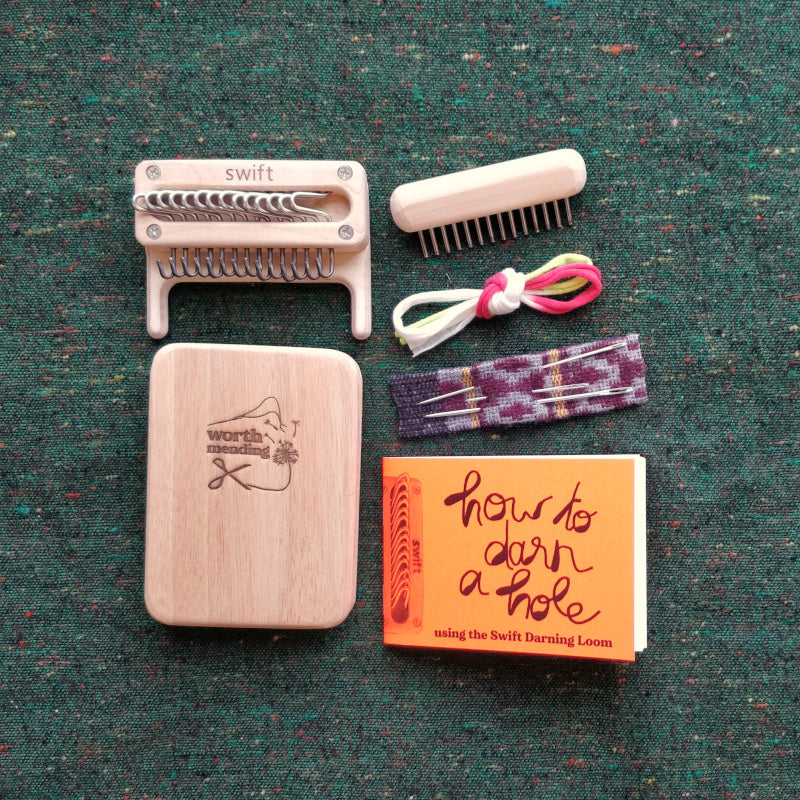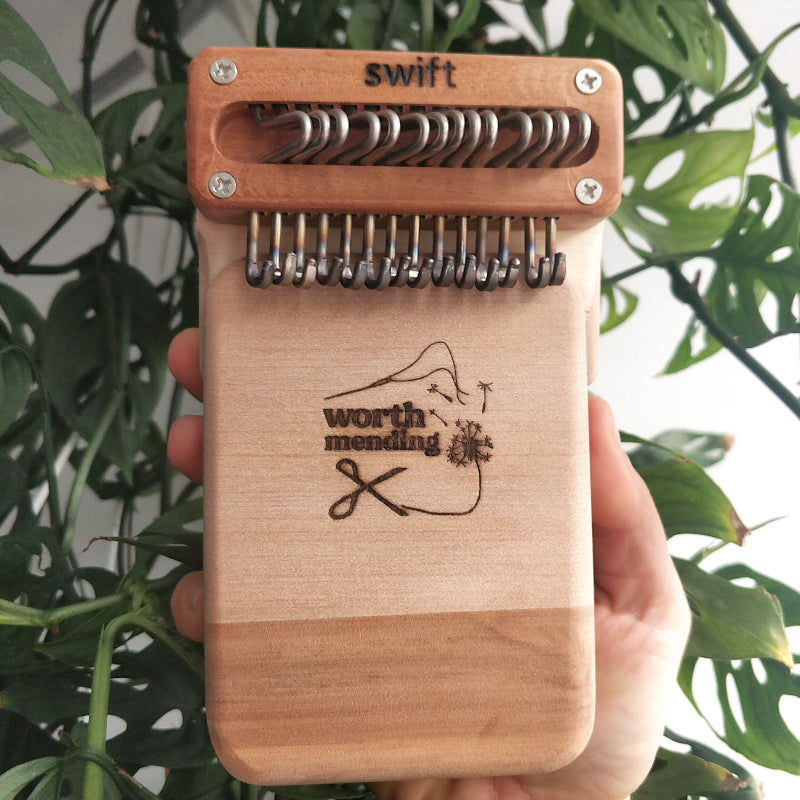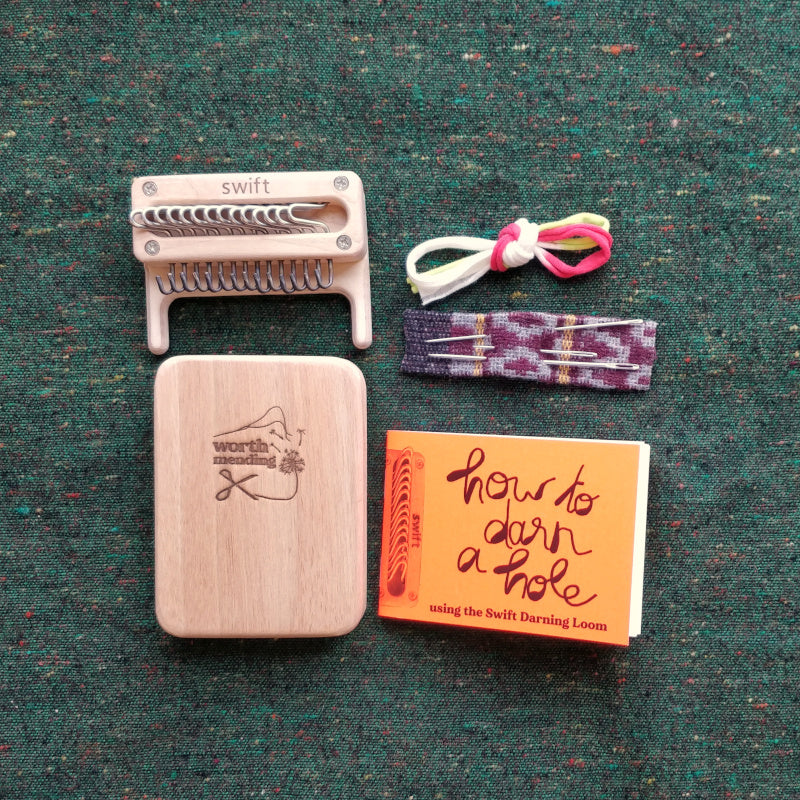 Swift Darning Loom
Regular price
$148.00 USD
Regular price
Sale price
$148.00 USD
Unit price
per
Sale
Sold out
Share
View full details