Regular price
$147.00 USD
Regular price
Sale price
$147.00 USD
Unit price
per
Sale
Sold out
Many of our customers end up placing a second order later for their weft pick.
so we added the option for you to purchase them together. Choose "Loom + Weft Pick" or "Just the loom please".
(If "Loom + Weft Pick" is out of stock you can still add a pick to your order here.)
------------------
The Swift Darning Loom is an upcycled take on classic vintage mini looms like the Speedweve (UK) or the Darn Easy (Canada). Like its vintage predecessors, the Swift Darning Loom is an heirloom in the making -- this time, with a modern and earth-conscious twist.

We designed this loom with our core values in mind. We use reclaimed solid hardwood paired with high-quality birch plywood for the base, reclaimed stainless steel bicycle spokes for the characteristic hooks, and stainless steel hardware to hold everything together. The wood is sanded to a fine finish and left bare, allowing it the potential to develop a beautiful patina with age and use.
Each of the work surfaces is unique in character, and in many cases the original finish is left intact as a hat-tip to the previous life that the wood has already enjoyed.
The Swift Darning Loom comes with one 14-hook darning loom & our "standard size" work surface (3 x 4.5"). The rectangular shape of the work surface means that you can create a much bigger patch per 14 hooks, compared to the "original" circular disc design. (They're also more efficient to make -- less waste in production, more function in the end product! A total win!)
+ 2x 3.5" sewing needles, 1x 2" sewing needle
+ stretchy tie (so you don't have to keep scrounging for elastics as they break)
+ the most thorough mini-loom instruction booklet that exists!
+ access to lots of how-to videos on the Worth Mending YouTube channel!
Packages are sent in recycled brown paper. Opening your package reveals your OOAK "packaging materials" -- your loom and accessories are kept safe by fabric scraps from our stash that you can re-use for patching or whatever else strikes your fancy. If you're real lucky, your package will come wrapped furoshiki-style -- re-use the wrap for another gift and carry the tradition on! Or, if you order a pouch, everything gets bundled in there before being swaddled in brown paper. This process takes time, but is the least wasteful packaging method we can think of which makes it worth it! <3
◘
Each loom is one-of-a-kind and, as we mentioned, handmade with natural wood and steel. This implies that variation in colour, texture, weight and other physical characteristics is completely normal and should not affect the function of your piece. Each one of these is built to last, and we handle every single one of them before shipping to make sure that they are sanded to a velvety finish and that those hooks flip smoothly side to side. The rounded edges and curves make this piece just lovely to hold on to as you work, and the unfinished wood will develop a patina over time -- or you can choose to stain, wax, oil, or paint it as you see fit!
IF THIS LISTING SAYS "Sold Out" or "Coming Soon", this means I'm in between batches! You can keep in touch and find out the second that we release more by signing up for my newsletter. The second place we announce drops is via Instagram or maybe TikTok.
Share
View full details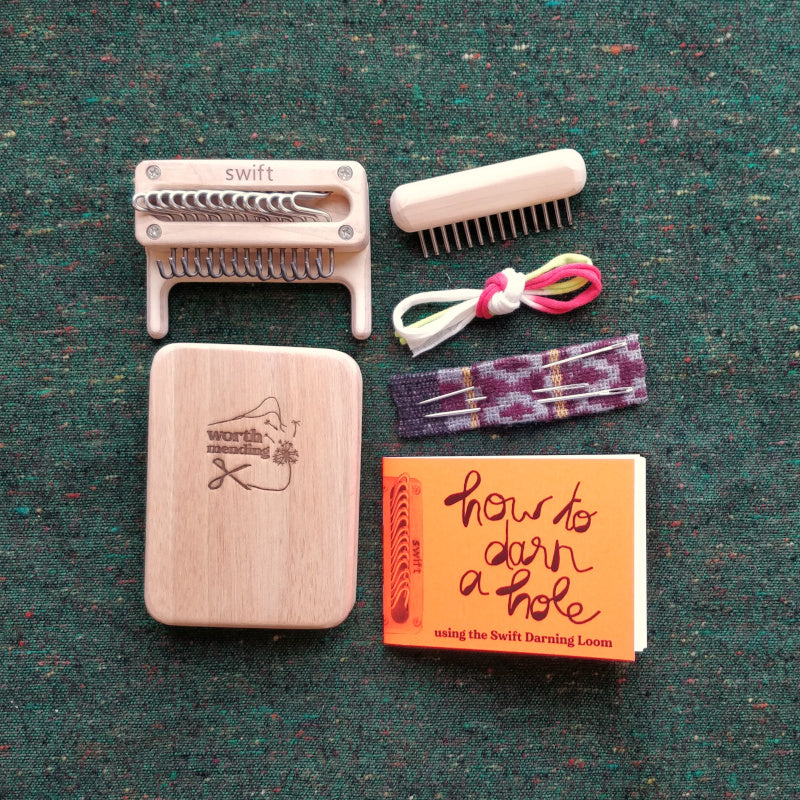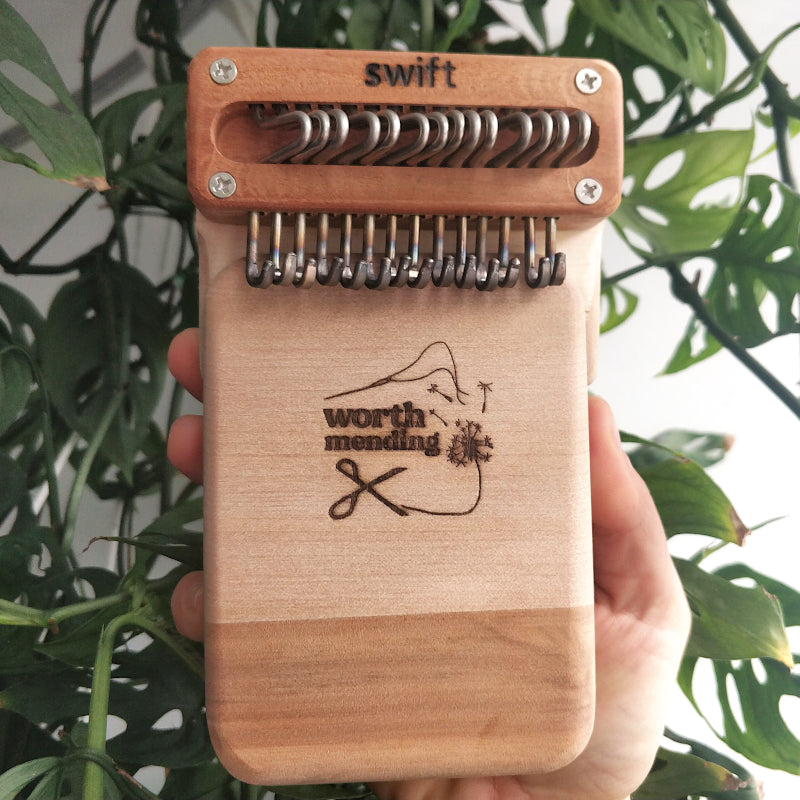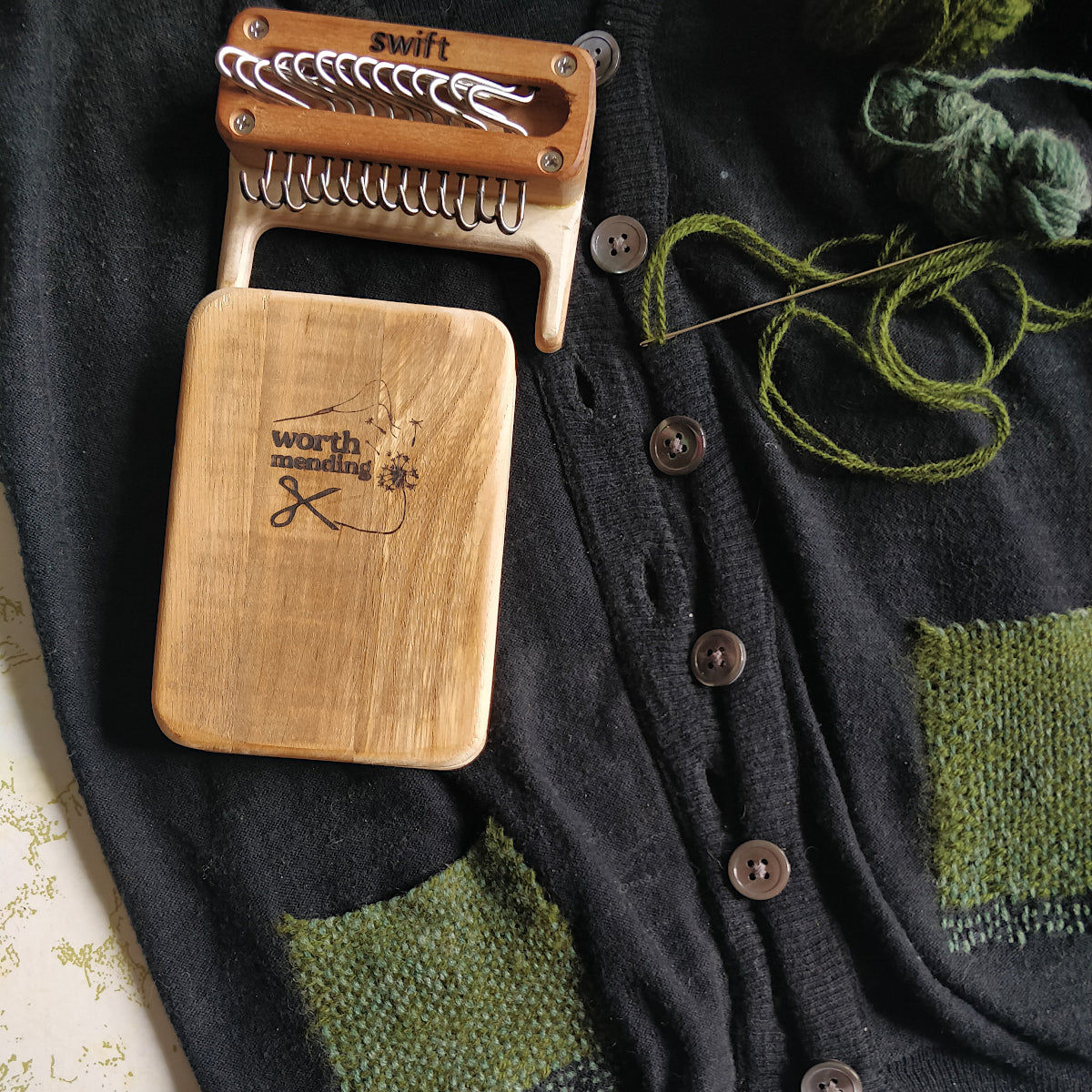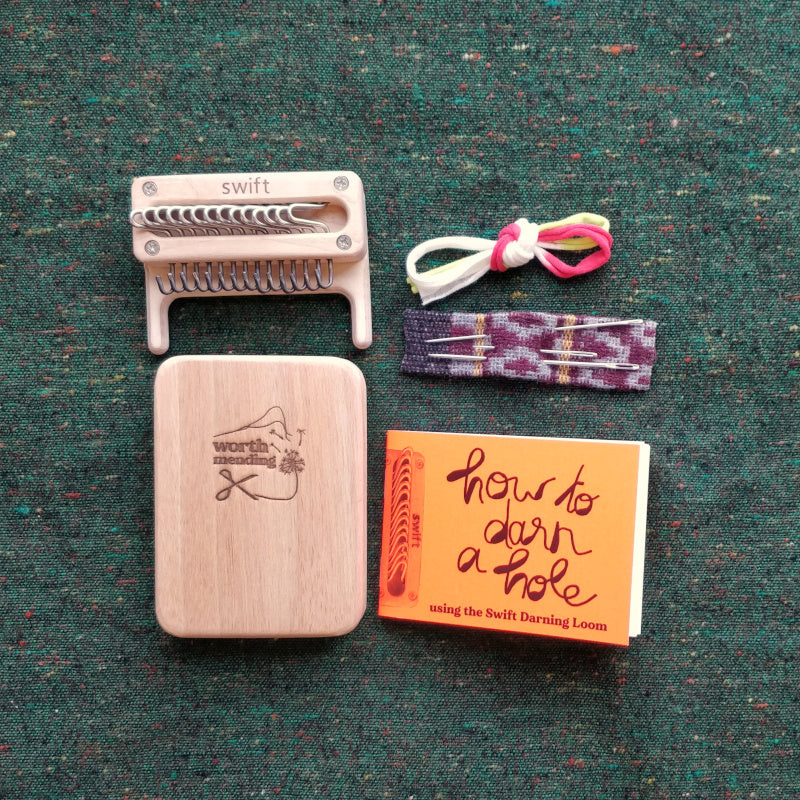 Very nice little loom!
Love this so much. Lots of love goes into making these. They are very good with communication and helping with any issues.
Such Fun and so Useful
I love my little mending loom. I have such fun mending my socks with brightly coloured yarn and have started fixing my fleece jackets with those burn holes from campfires. And now I see the moths got into my merino top but, no worries, I'll make a feature of the mend!
At first I thought the loom seemed a bit expensive but the handmade design using recycled and up cycled materials is such lovely quality that I feel good every time I use it. Sometime unique, handmade things are just worth it. And I'll be motivated to use it a lot so I get the best value for money. Haha!
Keep up the great work!
Susan
Usato ancora poco perché più difficile di quanto pensavo. Spero di riuscire a fare rammendi artistici e non tutti storti e bislenghi. È un po' complicato....
Thank you for this feedback (and sorry to not have the skills to reply in Italian!)
I will make it a priority to upload new tutorials by January that include attention to straight edges, tension/shaping, and other FAQs. In the meantime, if you have any questions, please reach out anytime or take a look at the video tutorials I already have online such as this one:
https://youtu.be/svlfChSPXxQ?si=51v3O5xubo7ogU98 - or search youtube channel: Worth Mending.
I have uploaded my full transcript to the captions of that video, which should hopefully make auto-translation a bit more reliable if needed too! I hope this helps you to get the most use of your darning loom :)
Fun tool and amazing craftsmanship
This loom truly is heirloom quality. It was easy for a first timer to use to mend and also easy to use for non-mending projects! Just love it!
It was a gift; I don't know if it is that useful for the family I bought it for.